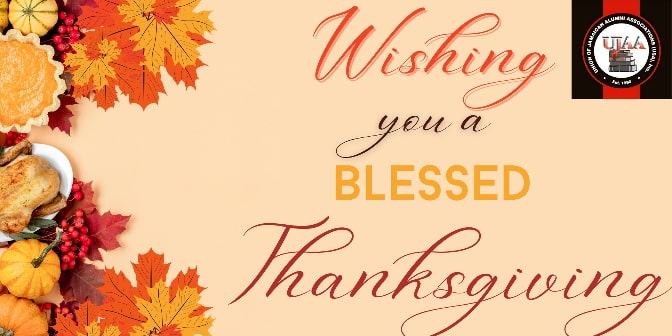 Dear UJAA Family Members:
On behalf of the UJAA Executive Board I want to say thank you as America celebrates another Thanksgiving holiday. Thanksgiving Day has been an annual holiday in the United States since 1863, even though not everyone sees it as a cause for celebration. It is a day for us to give thanks for what we have. Families and friends get together for a meal, which traditionally includes a roast turkey, stuffing, potatoes, vegetables, cranberry sauce, gravy, and pumpkin pie. We add our own Jamaican flavor with delicious dishes such as jerk chicken, oxtail, curry goat and rice and peas.
Many of us will take the time to party a little bit during the Thanksgiving weekend. In most areas, these festivities also mark the opening of the Christmas shopping season. We thank you and send warm wishes to you and your loved ones this celebratory season.
The last two years have been filled with moments of uncertainty. However, there is one thing you can always count on – our commitment to our initiatives to empower our young people through education. As our motto says "Education is Empowerment, only the Educated are Free."
For the families and friends who are not here with us, we know that they are not forgotten. We pause to remember them, and to breathe a prayer of thanks for the fact that we are still able to give thanks. Best wishes for a happy and safe Thanksgiving!
Sincerely,
Donovan
Donovan Wilson
President
Union of Jamaican Alumni Associations (USA) Inc. (UJAA)
Email: President@ujaausa.org
Cell: (917) 972-5502
"Education is Empowerment; Only the Educated are Free"