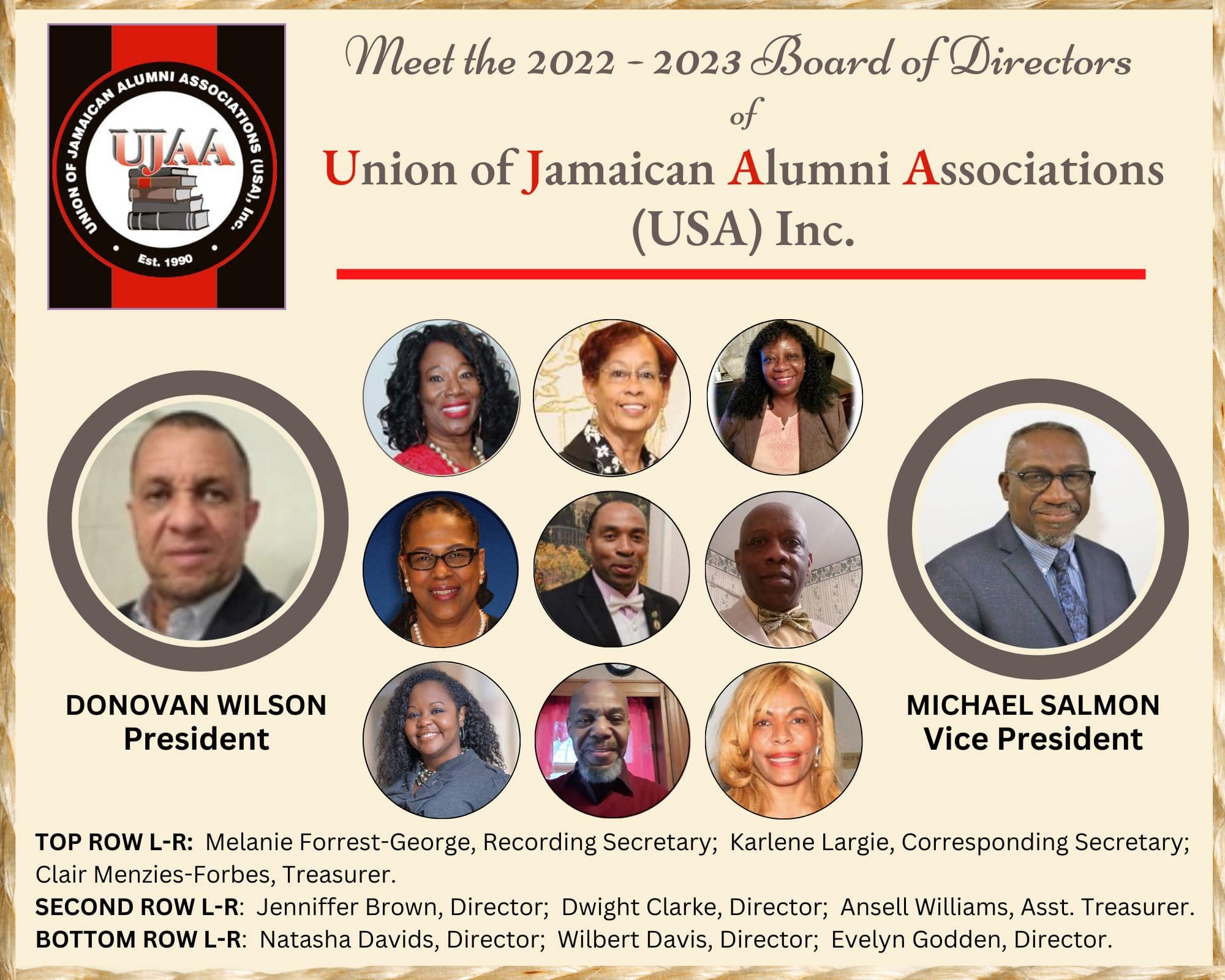 Donovan is the President of the St. Elizabeth Technical High School (STETHS) Alumni Association and has been an active alumni member since 1981.
He joined the board of the Union of Jamaica Alumni Association USA Inc in 2015 and served as a Director for three years before being elected as Vice President in 2018. In 2022 Donovan has been elected as the current President of UJAA.
He has a strong belief that education is key to a lifetime of success and achievement. He has been involved with non-profit organizations, particularly in the field of education and track and field, for over two decades.
Donovan is a corporate transportation professional and has worked in the transportation industry for over 20 years. He is a Vice President and the Global Transportation Manager at Barclays, and holds degrees in Corporate Communications and Industrial Psychology from Baruch College as well as the State University of New York.
Michael graduated from Knox College, Jamaica, in 1972, and went on to earn his Bachelor of Science degree in Economics from the University of the West Indies, Mona, Jamaica, in 1978. One year later, in 1979, he received his Master of Science degree in Economics, specializing in Economic Development. Upon graduation, Michael was invited to apply for the position of lecturer in the Department of Economics, Mona, and served in that capacity until he migrated to the US in 1984. In 1985, he was the recipient of the prestigious LASPAU-Fulbright fellowship to pursue the doctorate degree in economics at NYU. In 1987, Michael began his over thirty-years teaching career at New York University. In 1993, he was also invited to teach economics at Marymount Manhattan College, where today he is an Assistant Vice President and Dean of the Center for Academic Excellence.
Over the years, Michael has been the recipient of outstanding teaching awards both at NYU and at Marymount Manhattan College, as well as being the four-times recipient of the annual Outstanding Administrator Award at the latter institution. In 2012, because of his extensive work with incoming college students, he was one of 10 college administrators and faculty across the US to receive the prestigious "Outstanding First Year Student Advocate Award" from the National Resource Center for the First Year Experience and Students in Transition, University of South Carolina.
Today, Michael continues to teach, research, and manage several college programs, while always finding time to mentor young college students. As the current president of the Knox Association of Past Students (New York Chapter), Michael is always working on ways of 'giving back' to his beloved alma mater and to his country of birth.
Melanie Forrest-George was appointed to the Board in 2017 to fill the position of Recording Secretary, then was elected the following year and re-elected to her current term. Melanie is currently the President of her alumni association St. Andrew Technical High School (STATHS) Alumni Association, NE Chapter. She previously served as Assistant Secretary and on the Entertainment Committee.
Ms. Forrest-George has worked for thirty-six years as an Administrative Assistant – a Legal Secretary and Executive Secretary. She is currently employed at the New York Branch of an international law firm in Manhattan.
Karlene Largie was recently elected to the position of Corresponding Secretary, having served as a Director for five (5) years and as UJAA's immediate past president.
Karlene is the Vice President of her alma mater – Immaculate Conception High School (ICHS) Alumnae Association NY Chapter having served for many years as the association's president. She serves on the Board of Directors of several other organizations.
Ms. Largie is retired from thirty-two successful years in the Banking Operations industry of corporate America. Her activities in the Diaspora are many and varied and includes being a founding member of the Jamaica Diaspora Education Task Force.
Clair Menzies-Forbes – Alpha Academy Alumnae Association, Tri-State Chapter.
Clair is the Immediate Past President of Alpha Academy Alumnae Association, Tri-State Chapter. She joined Alpha Academy Alumnae Association in 2013 and was elected to the post of Secretary in 2015 and President in 2017. Clair became a Director of UJAA in 2018, having been asked to completed Mr. Donovan Wilson's term after he became Vice President of UJAA. In 2019 she was re-elected to the position of Director on UJAA's board. In 2020 she was elected to the position of Treasurer.
Clair is always studying and trying to improve herself. She strongly believes in UJAA's tag line – "Education is Empowerment, Only the Educated are Free." She feels that we as alumnae, if we can, should help the current student body in whatever way(s) that we can. We are molding and shaping future leaders of Jamaica and the world.
Clair worked with Royal Bank Jamaica, Mutual Security Bank, and National Commercial Bank before migrating to the US. She started her banking career as a Registrar Clerk in the Trust Company and worked her way up the ranks, leaving as a Personal Loans Officer for one of NCB branches. She has worked in the non-profit industry in the US in the accounting field for the past twenty-two years. She holds a Bachelor of Business Administration in Finance (BBA Finance) from University of Technology, Jamaica (U Tech), (formerly College of Arts Science and Technology). She is an Associate of the Chartered Institute of Bankers (A.C.I.B) (UK). She holds an MBA in Finance and Accounting from Regis University; an MBA in Accounting; as well as Master of Accounting and Financial Management (MAFM) from Keller Graduate School of Management.
Ansell Williams – Asst. Treasurer
Bethany Past Students Association Inc.
Mr. Davis is serving in his third two-year term as the Assistant Treasurer. He has previously served as a Director. An alumnus of St. Catherine High School, he is currently the Vice President of his alumni association in New York.
Prior to migrating to the USA, Wilbert served as member of the Jamaica Constabulary Force, serving first at the Mobile Reserve Division and the Jamaica Police Academy where he served for over seven years as an instructor in laws and police duties and lectured in the non-law subjects of West Indian History, the Jamaica Constitution and the Rights of a Citizen.
Mr. Davis is currently employed as Coordinator, Corporate Paralegals at a major New York City corporate law firm where he has been employed for over 22 years. He holds a BA, Hons. John Jay College of Criminal Justice, City University of New York.
Jenniffer A. Brown is the Chief Administrative Officer of a New York law firm. She has over twenty years' experience delivering strategic and organizational leadership, talent and change management strategies that are necessary for comprehensive, tactical, and effective leadership. She is skilled at conceiving, planning, developing, and executing new concepts, as well as providing overall program direction, with a focus on results.
A long-standing member of the international Association of Legal Administrators (ALA) and the NYC Chapter (ALANYC), she has served on and chaired various committees, including as the founding chair for ALANYC's Committee on Diversity and Inclusion. Among her many accomplishments in ALA and ALANYC, Jenniffer is the first Jamaican national to have served on the Board of Directors, is the first and only Jamaican national to have served as President of ALANYC, and as Chair of ALA's Committee on Diversity and Inclusion.
Jenniffer has been serving as President of the New York chapter of her high school's alumnae association since 2016 – Westwood Old Girls' Association. Through her leadership, WOGA New York was incorporated as a fully certified 501(C)(3) organization in 2017 and remains a tireless champion for WOGANY.
Her passion for servant leadership has led to her current role on the UJAA Board of Directors
Jenniffer graduated from Pace University's Human Resource Management Studies program and is a lifelong learner. She believes the diversity of her professional experiences both in Jamaica and the United States will serve as the catalyst for success in her new role.
Dwight Clarke was appointed to the Board to complete the term of a Director.
Since 2017, Dwight has been the president of his high school alumni association – York Castle Alumni Association, New York Chapter, and recently assisted in the launch of the York Castle Foundation in Jamaica.
Mr. Clarke is an architect and Senior Project Officer at New York City Schools Construction Authority where he has worked since 2008. He manages construction for building state of the art facilities for students. Mr. Clarke is also a graduate of Brown's Town Community College and the Institute of Design and Construction.
Natasha graduated from Immaculate Conception High School in Jamaica in 1988.  She migrated to the United States and went on to earn her Bachelor of Arts degree in Psychology from York College, City University of New York.  She worked as a student intern at Carnegie Corporation of New York in 1993 and was hired to work there full-time in 1994.  She continues to work at Carnegie where she is currently the Executive Assistant to the President.
Natasha is very active in the Immaculate Conception High School Alumnae Association, New York Chapter, where she has served as Recording Secretary, Vice President and President.  She is currently Immediate Past President and chairs various committees.  She is an active donor, member and volunteer of many charitable institutions both in the US and Jamaica, and is passionate towards causes centered around education, children and women.
Evelyn Godden has worked at Citi Private Banking for the past 30 years where she has held several positions from analyst to Vice President. As Vice President at Citi Private Bank, she managed the Knowledge Center team and the Information Security & Control team in Mumbai, India. She provides strategic direction on key CPB application roll-outs to users in the US and Latin America countries. She has also served in a leadership role on Citi's African Heritage Network (NYC) Committee, and co-chaired the Career and Professional Development team.
Evelyn is also a member of Citibank Women's Leadership Council – Internal Network and Events committee. This organization works with women in leadership positions to empower them further.
Evelyn supervised the Citi Private Bank on-boarding of 40 plus international interns annually, placement process, performance review and exit interviews. Upon the completion of their rotation she was responsible for the exit interviews that helped us improve the on-boarding and program experience for the next round of interns.
For the past 5 years, she served as president for New Day School Alumni Association NY Chapter (NDSAA). In September 2019, she was elected to the UJAA Board as a Director and currently chairs the Primary Schools Team. Evelyn holds a Bachelor of Arts in Business Administration from New York City College. She worked as a volunteer on several political campaigns and organized fundraisers for churches and schools. In her spare time, Evelyn enjoys attending performing arts, sports and gardening.
Lesleyann Samuel has been the President of the Union of Jamaican Alumni Associations (USA) from 2014 to 2022. During her long tenure, UJAA membership has grown from 32 to over 60 alumni organizations. A leader of vision and passion, she has focused on developing the programs of the Union, establishing UJAA as a stakeholder with various education organizations in Jamaica, including the National Education Inspectorate, enhancing the effectiveness of the member organizations, and collaborating with other alumni umbrella groups around the globe. With over 30 years of leadership experience in several non-profit organizations, Lesleyann also currently also serves as Assistant Treasurer for the alumnae association of her alma mater – Immaculate Conception High School, St. Andrew, Jamaica, and as Vice-Chair of the Jamaica Diaspora Education Task Force.
Lesleyann has been employed in various leadership capacities in the telecommunications sector for the past 35+ years, and since 2001, has been an adjunct professor with University of Maryland Global Campus in the Business Management department. She currently teaches Organizational Leadership.
Lesleyann holds M.Sc. in Electrical Engineering – Technology Management from the University of Pennsylvania, and a B.Sc. in Computer Science and Management from Rensselaer Polytechnic Institute. She is the proud mom to son, Nicholas who lives and works in southern California.