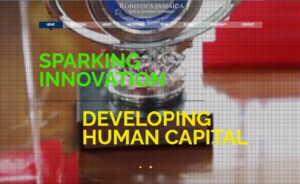 WHO WE ARE
Robotics Jamaica (RoboJam™) is a project of the Union of Jamaican Alumni Associations (USA) Inc. (UJAA) in partnership with its member Associations. UJAA is an IRS 501 (c) 3 tax exempt umbrella organization representing over 45 alumni associations of schools in Jamaica.
The mission of RoboJam™ is to assist in upgrading the Jamaican workforce via STEM education, in support of the government's Vision 2030 Development plan. This plan is Jamaica's roadmap to developed nation status.
RoboJam™ focuses on project development to build capacity for competence in robotics and related disciplines in Jamaican schools. Its programs are designed for students 6 – 18 years but projects at the secondary school level are currently prioritized.
RoboJam™ is enabling participation of a Jamaican national team in FIRST Global, a robotics competition to be launched July 2017 in the USA. In February 2018 RoboJam plans to launch the inaugural Jamaica Robotics Championship. This initiative is also being planned in cooperation with FIRST.​
RoboJam™ builds on and now incorporates programs in robotics developed for Jamaican schools since 2009. The goal is now to extend the reach and benefits of robotics countrywide.
We deliver 21st Century skills to students which spurs expertise in technology and a culture of innovation in the Jamaican economy.