Montego Bay High School Alumnae Association of New York, Inc. (MBHSAANY)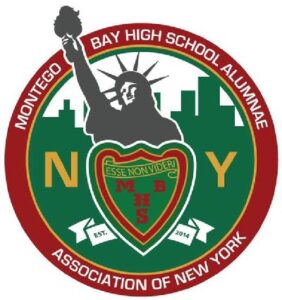 Mission:
Plan and implement viable projects aimed at enhancing the educational pursuits of Montego Bay High School.
Support the interests of our alma mater, members, and current and future students of Montego Bay High School, through through the development of mutually beneficial relationship.
Have alumnae of the Association share with students and fellow members their career fields or professions by providing information to assist those in the process of choosing their careers or making a career transition.
Recognize and award faculty, staff members, students, friends of our alma mater, community leaders, and members of the Association for outstanding achievements and services.
Executive Committee:
President: Merlene Mullings
Vice President: Maxine Brown-Hylton
Treasurer: Opal Sutherland-Sangster
Secretary: Laurel Daley
Assistant Secretary: Jennifer Chambers-Gordon
Director of Operations: Patricia Absalom-Minott
Director at Large: Sharon Clare
Contact Information:
Mailing Address: 455 Tarrytown Road, Suite 1022, White Plains NY 10607
Email Address: mbhsaany@gmail.com
Telephone Number: (914) 505- 6183
Website: (if available): www.mbhsaany.org